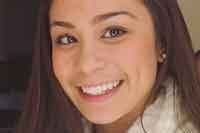 The winner of the December 2015 Odenza Marketing Group Volunteer Award is Nicole Hansen from Oak Lawn, IL. Nicole graduates from Harold L. Richards High School in 2016 and plans to attend Florida State University and pursue a Pre-Meteorology degree.

Message from Recipient:
"College is one of those things that I stay up late at night thinking about. But thanks to the generous help from the Odenza Scholarship, I can rest a little bit easier. Thank you so much. I am forever grateful."