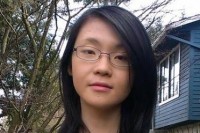 The winner of the December 2013 Odenza Marketing Group Volunteer Award is Lucia Lin from Delta, BC. Lucia plans on attending the University of British Columbia and entering into the Science Undergraduate program and, afterwards, pursue a medical degree.

Message from Recipient:
"I am so grateful and honoured to receive this award. The financial support of the Odenza Scholarship will go towards purchasing school books and alleviate some of the economic strain, allowing me to pursue more sustainability projects at university. I want to thank the Odenza Marketing Group for supporting my academic aspirations and also allow me to pursue my vision of conservation and environmental preservation!"